Flowers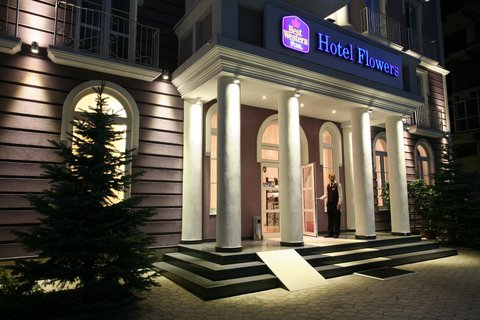 Hotel Flowers is a 4* hotel located in the center of the city, and comfortably nestling far from the noise of the streets, in the heart of the residential quarter. Within two minutes of walking from the hotel there is a shopping center, restaurant "Verandah", cafe "Cherry-Café", the kids' entertaining center and shop with the goods for children, casino, agricultural supermarket, huge supermarket, parking.
The hotel has 18 rooms including standard rooms for single occupation (26 м2, double bed), large rooms (44 м2, double bed), and twin rooms (46 м2, 2 double beds).
Room amenities:
• air conditioning,
• wide-screen TV,
• mini-bar,
• spacious bathroom.
All of them are comfortably furnished with the magnificent wood sets of classical style and equipped with the multichannel satellite television, international and long-distance telecommunication, and also the wireless Internet.
The hotel also has a cozy restaurant. Complaisant waiters will always offer you a buffet breakfast and warm supper. Soft bewitching light and charming quiet music in the restaurant will create romantic atmosphere and favorable disposition for the supper or small celebration.
Hotel facilities:
• parking,
• restaurant,
• laundry,
• access to the internet,
• room-service,
• sauna,
• satellite television,
• phone,
• hair dryer,
• air conditioner.