Schloss Elmau - Luxury Spa & Cultural Hideaway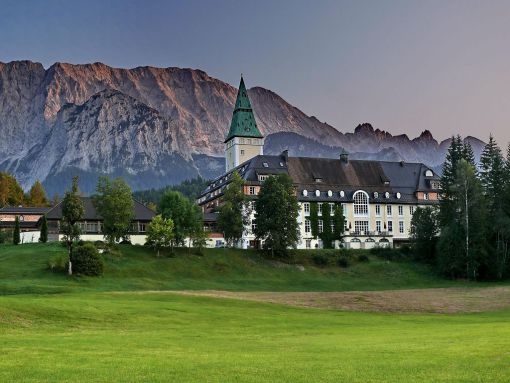 The Leading Hotels of the World
100 km south of Munich. 1000 m above sea level in the Bavarian Alps. In a secluded sanctuary of magical beauty.
Get away from it all. Discover the ultimate spa experience for families and global nomads. Enjoy the tranquility of the mountains. Inhale the scent of the woods. Listen to the sound of a crystal clear brook. Relax in spacious rooms, lounges and spas offering the luxury of diversity, space and privacy. Feel the appreciation for the creative and hybrid in intimate interiors blending subtle oriental influences with precious natural materials: ancient stone from Bavaria, pure silk and colorful linen from India, furniture from China and Indonesia, unpolished woods from Africa to America and spectacular lighting from Italy everywhere.
Experience classical music, jazz, world music and world literature with some of the greatest artists and authors of our time. Visit art museums or the nearby fairy tale castles of King Ludwig II of Bavaria: his favorite is just a hike away. Suspend time in four spas, probably the most beautiful in the world: be pampered and swim between heaven and earth in an oasis of calm of the Badehaus Spa exclusively reserved for adults. Celebrate ancient rituals in the authentic oriental Hammam, perhaps the biggest west of Istanbul. Spend unrestricted quality time with your kids in the Family Spa or during the summer also in the huge Nature Spa. Re-energize with sports unlimited all year: some of the best skiing in the Alps and a challenging game of golf is just 10 - 20 minutes from the castle.
Savor innovative gourmet fusion cuisine from Asia to Italy and superb wines from Europe and beyond. Chill out and meet with interesting guests in restaurants, bars, lounges & terraces designed to inspire and enhanced by a passion for individualized service & care. Remember something unique and timeless. The Schloss Elmau Experience.