Salon "ALEXANDER"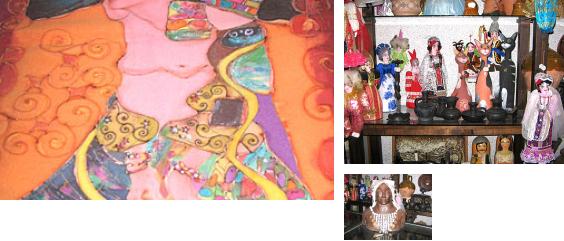 Show all photos
The idea of creating the art gallery was maturing in its founders since 1980. Architects Alexander Neceainecu and Natalia Obada wanted to gather the collection of "naivizm, primitivism, Symbolism", to create original art salon.
The idea was realized by the creators of the salon "ALEXANDER" in 1990. Here they gathered a collection of venerable artists and craftsmen. Including: Mark Verlan-Marioca Son of Rain, Vadim Palamarchuk, Simeon Zaspa, Yuri Platon, Victor Gutu, Alexander Drobaha, Andrey Gamarts, Irina Shukh, Natalia Obada.
The collectors of the Gallery make an accent on the senses. They are not interested in name and regalia of the artists, but the sincerity with which this or that work is made. In general, the salon owner confessed, the masters exhibiting their works in the art gallery "ALEXANDER", work not for money, but for self-expression.
In the salon you can find a variety of works: icons, batik, papier-mache, ceramic and bronze, forging, leather, graphics, dolls. The name of the works strike: "Princess of Kazakhstan", "Blue Petrarca," "When I cross the Euphrates, I'll send you a letter, full of friendly smiles, which are like the wild flowers," "Dream of the puppeteer" ....
Art gallery has its repeated customers. The founders of the Salon are sure: "ALEXANDER" occurred!