Nature sanctuary "Prut Thresholds"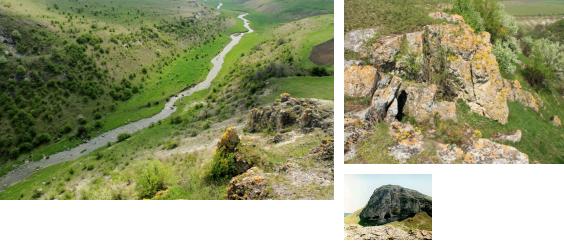 Show all photos
Distance from Chisinau: 200 km
Trip to the excursion place: 2,5-3 hours
The nature sanctuary "Prut Thresholds" is some 200 km from Chisinau in the village Coban. According to the last historical researches it is the earliest documentary mentioned district in the Republic of Moldova - in 1374 when it was called as Zubreut. Near this village one of the most impressing nature sanctuaries in the country begins: a chain of thresholds - the formation which is typical for the zone of the Upper Prut and unique phenomenon in Europe. Researchers named this nature sanctuary a chain of coral reeves, locals call it «tiglae», and in the special literature it is mentioned as «toltre» - the word was taken from the Polish language.
«Prut thresholds» or «Toltre» are concentrated on the limited area, in the pool of the small rivers Larga, Vilia, Lopatnic, Dragiste, Rakovet, Ciuhur and Camenca joining the middle part of Prut. In spite of the fact that the chain of reeves is considerably broken in some places, till now it is a uniform organism extent of which is about 200 km. At that «Prut Thresholds» are not directly on the bank of the Prut, but in the pool of its inflows, several kilometers from the left bank.
Chains of the coral reeves in the north of Moldova consist of skeletons of corals, mollusks, shells, seaweed, sea animals and organisms inhabiting the Torton and Sarmatian tropical seas some 10-20 million years ago. These Bessarabian reeves have the same origin as the great coral chain of Australia. Difference consists in that the Australian chain is almost completely under water (its tops tower 2-5 meters above the ocean level), and our reeves are one hundred meters in height and are on the land where one can admire them in all their beauty.
3 kilometers from the stream Camenca there is a reef shattered into two parts which are called «At the Rock Edge» and «the Big Rock». In one of caves of latter there is a human dwelling of Paleolithic and mesolytic era. In its layers, on depth of over 5 meters, they found the fossilized remains of animals and stone implement. The reef keeps traces of the fortress of the neolytic era protected by the steep coast and earthen embankment.
Whatever improbable it looks like but of the whole Europe, from the strait of Gibraltar to Ural Mountains, only in Moldova you can observe and research these mysterious miracles of the nature.
Services of the guide: Russian, Romanian, English, German languages
Transport services: Minivan, Minibus, Bus
Recommendations for the tourist:
Convenient footwear and clothes
The camera