Cahul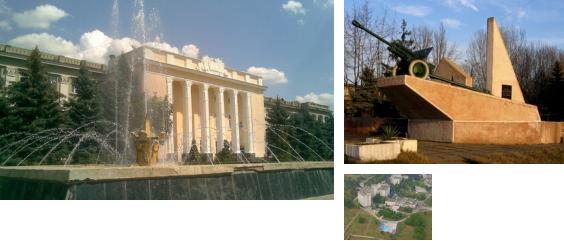 Show all photos
Distance from Chisinau: 175 km
Duration of the excursion: 10 hours
Visiting: famous scientific reserve "Lower Prut", the natural reserve of the curative herbs, History Museum, Republic B.P. Hasdeu Music-dramatic theatre.
Cahul is a town in southern Moldova, Centre of Cahul district, resort. Officially Cahul became city in December 1835, it was named in honor of the victory by the Russian troops over the Turkish army at the river Cahul in 1770. Until that time the settlement was named Shkeya, then - Frumoasa (Beautiful), and was first mentioned in the sovereign's charters at the beginning of XVI century. Cahul is located in the open place with the slight slope to the river. The city is well planned. A small tributary of the Prut River, the river Frumoasa divides it into two unequal parts - the northern and southern. Cahul has the resort area, well known in the former USSR, "Nufarul Alb" ("White Water Lily"). Thermal mineral water and clean air of the Lower Prut increase the healing properties of this zone. The first mention of the settlement refers to 1452, but the archaeological researches suggests that it should be much older. The settlement appeared near one of the oldest crossings across the River Prut and was the scene of many military conflicts. The Tatars and the Turks in the medieval period repeatedly ravaged this area, and only in the late XVIII century after Cahul battle between Moldavian - Russian troops and Turkish janissaries, these attacks ceased and the village of Cahul is becoming an important commercial and cultural center of the south of Moldova.
Recently, the city received its own coat of arms. It is a white lily on the background of the national flag of Moldova. No wonder that it was a white water on the emblem of the city. Cahul is known for the sanatorium "Nufarul Alb located here. This sanatorium was built in 1978 after the healing water source was discovered. This water contains large quantity of bromine and iodine. This place is visited for treatment by people with diseases of the cardiovascular and nervous systems, with the problems of the musculoskeletal system and skin diseases.
Interesting places are: Cahul has the local history museum, the major part of its collection is the archaeological finding, representing the culture of Tripoli. The museum contains a color original plan designed by Pavel Ivanovich Fedorov, according to this plan Cahul was built. According to the traditions of that time the city was built with wide streets, squares and markets. Also places of great interest include the collection of Russian weapons, uniforms and awards, reflecting the history of the Russian-Turkish wars of the XVIII century. Among the survived monuments in Cahul we should mention the Cathedral of the Holy Archangels Michael and Gabriel, built according to the registers in 1850, it works and is open for visits. However, the historical books and confessionary paintings of the church exist since 1817.
Services of the guide: Russian, Romanian, English, German languages
Transport services: Minivan, Minibus, Bus
Recommendations for the tourist:
Convenient footwear and clothes
The camera