Chisinau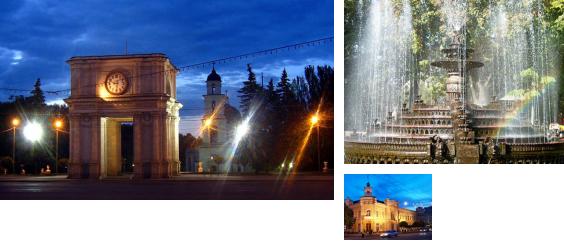 Show all photos
Duration of excursion: 4 hours
Visiting: City park «Stefan The Great», Avenue of Classics, Cathedral, monument to "Stefan The Great", Victory Arch, Square of the Great National Meeting, theater "M.Eminescu", market of souvenirs, district Rascani, Botanica, Television center (Memorial of Military Glory), Buiucani (Museum of ethnography and natural study of Moldova)
Sightseeing tour over Chisinau
My white city, you are a flower of stone,
Washed by the caressing solar rain,
Like with winds you are fanned with centuries,
Like a song you sound in my heart.
Chisinau is the capital of the Republic of Moldova which attracts numerous tourists with its picturesque hills, verdures of the forests, and plenty of old monasteries. They give especial charm to this country. Though the country is not big, but it always makes bright and unforgettable impression on the travelers. The Moldavian wines, astonishing southern kitchen, warm hospitality and never will leave anybody indifferent.
Pioneer settlement on the place of the city is referred to 1436, and with time it extended and occupied seven neighboring hills. That is why it is called «city on seven hills». Originally a small trading place, Chisinau became by the beginning of XIX century an administrative center of Bessarabia. The city develops quickly, many houses and buildings were built here in various architectural styles. Chisinau becomes unique owing to the original architectural creations of great architects of Bernardati, Shchuseva, etc. People living in Chisinau made great contribution to the development of the national culture, and during his days of exile great Russian poet A.S.Pushkin created here the masterpieces. Buried in the verdure parks, the city center kept the style of the middle XIX century, and is not overburdened with the modern high buildings. These are mainly the buildings of the government executed in the spirit of the modern architecture. The city is divided into 6 big sectors: center, Botanica, Buiucani, Sculeni, Ciocana and Rascani submitting to the municipal Mayoralty.
Places for visiting include Boulevard Stefan The Great - the main highway of the city with the main national administrative (Presidential palace, Parliament of RM, Government of RM, Municipal Mayoralty etc), cultural (National Theatre "M.Eminescu", Organ hall, Opera and ballet theater, Cinema "Patria"), financial and banking, commercial, etc. buildings. During the national holidays and on the City Day the Square of the Great National Meetings hosts various actions and mass celebrations. The old city is located in the historical part with its kept 700 houses of XIX century built according to the principle of the closed quarters, 18 old churches, including the Cathedral. Museums reproduce the atmosphere of the previous centuries, in particular it is upon the National Museum of History of Moldova, the Ethnography Museum, the Archeology and Ethnography Museum etc. The old city is also home to numerous foreign embassies and representations in Moldova.
Services of the guide: Russian, Romanian, English, German languages
Transport services: Minivan, Minibus, Bus
Recommendations for the tourist:
Convenient footwear and clothes
The camera