City of Tiraspol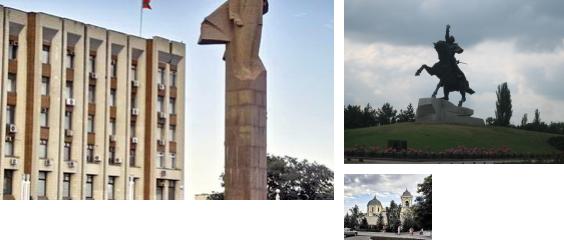 Show all photos
Duration: 8 hours
Distance from Chisinau: 80 km
Visiting: City of Tiraspol, Soviet monuments like monument to Vladimir Ilyich Lenin, Dniester river, Sports complex "Sheriff", Cognac factory "Kvint"
Tiraspol is a large social, political, economic and cultural center of Dniester region. The city name consists of two words: «Tiras» - so ancient Greeks named the river Dniester and "polis" - city.
On the map of Moldova it appeared in 1792 during the battle of Russian armies with Turkish janissaries, near the fortress of Bender. To strengthen the new borders of the empire in 1792 the fortress Sredinnaya was constructed by special order of A.V.Suvorov to arrange the Dniester like on the left coast of Dniester; building was controlled by the general-major of Russian army Frant de Volan. At the earthen fortress Sredinnaya the city of Tiraspol was based. Then they has build the fortress with three towers which promoted to strengthen the positions of the Russian army. After annexation of Bessarabia by Russia, the fortress was transformed into prison where during the imperial regime the Decembrists were contained, and later it was destroyed. An incitement for development of the city was the laying of the railway from the station Razdelnaya to Tiraspol, owing to this Tiraspol became the first city of the region connected with the comfortable way with the seaport in Odessa. In 1873 the railway system connected Tiraspol and Chisinau. By the end of XIX century the city had more than one hundred large and small enterprises. Ruins of the Vladimir tower remained till today.
The Tiraspol city center has one of the oldest dendrology gardens in Moldova. You can visit the History museum, University "T.Shevchenko", Drama theater, monuments to A.Suvorov and the Decembrist V.Raevsky.
Interesting excursion can be organized to the Kolkotovaya beam – known geological and paleontologic monument of Moldova.
Sights in vicinity:
- Bendery fortress,
- In Varnita: Museum "Karl XII" which reminds of the Swedish king who was in exile after defeat from Russian armies near Poltava,
- In Varnita: the source with the mineral water having the curative properties known far outside of Moldova,
- Dendrology park in Harbovet,
- Novo Nyametsky Monastery,
- "Turkish garden" in Talmaza,
- Church with wall frescos in Causani
Services of the guide: Russian, Romanian, English, German languages
Transport services: Minivan, Minibus, Bus
Recommendations for the tourist:
Convenient footwear and clothes
The camera