Wine factory "Vinuri Ialoveni"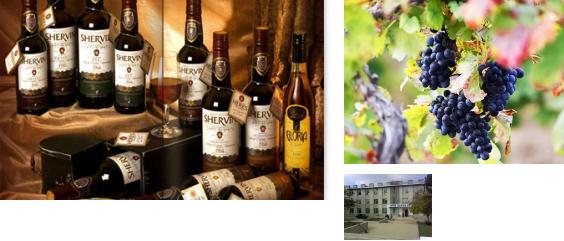 Show all photos
Distance from Chisinau: 14 km, from Stefan Voda
Duration of excursion: 1-1,5 hours
Trip to the excursion place: 30 min.
Joint-stock company "Vinuri Ialoveni" is the unique wine making enterprise in Republic Moldova producing the wines "Ialoveni" according to the classical Spanish technology (with the film method) and which are identical in the taste with the wines made in the Denomination Region Jerez in Spain.
Traditionally about 90 % of the whole production volume of the winery are the wines Ialoveni (Sherry) are. The enterprise was based in 1953 and is located in the district of Chisinau. The primary activity of the enterprise is grapes processing, manufacture, bottling and commercialization of the film wines is. Carefully keeping the traditions the masters - wine makers make wines charming the experts in wines with the surprisingly fine flavor combinations. The wines of Ialoveni have unforgettable perfect taste which always remind you of Ialoveni and professionalism of its wine makers. This is a real art to grow up grapes, combining new developing technologies, the earths, local microclimate and even slopes where the vineyards grow. Wines "Ialoveni" bring you the exclusive pleasure confirming the skill of wine makers from the JSC "Vinuri Ialoveni" in the part of maturing of wines in oak butts which allows them to get the rich taste and delicate aroma.
Thanks to the modern technologies of air-conditioning and bottling the wine "Ialoveni" correspond to the highest standards of the market, and their quality was awarded with more than 50 gold and silver medals at the different international competitions and tastings. Pride for the winery is the Grand Prix for the quality at the prestigious international competition in Istanbul (1991), and also other awards won in Yalta, Tbilissi, Tallinn, Budapest, Bucharest, Barcelona, Bratislava, Istanbul, Rome, Madrid, Chisinau and Moscow.
"Ialoveni" are the quality wines, for its external beauty and elegance it was compared in old time with "yellow daffodil in silver bowl", it contains a lot of biologically active substances perfectly influencing the organism. Thanks to the skillful wine makers, centuries-old traditions of the wine manufacturing, the vineyards located on the most fertile chernozem earths in the world, and also to the special environmental conditions, they make exclusive film wines "Ialoveni" (Sherry). All the efforts and heartedness are put in the process for you to enjoy the best wines from Moldova.
Services of the guide: Russian, Romanian, English, German languages
Transport services: Minivan, Minibus, Bus
Recommendations to the tourist:
Light outwear (temperature 12-14С and humidity of 85-95 %)
Convenient footwear and clothes
The camera