Fabrica de vin Cojusna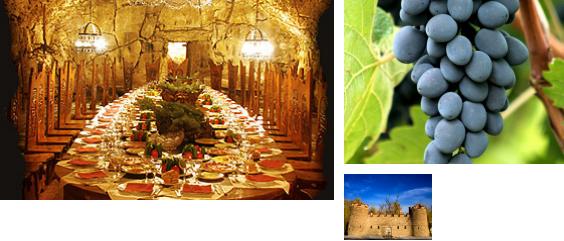 Show all photos
Distance from Chisinau: 15 km
Trip to the excursion place: 30-40 min
Duration of excursion 1,5-2 hours
The history of the grapes cultivation on the earth numbers more than 7 thousand years. Boundless fields of vineyards are the main sign of the Moldavian landscape. Equal green rows on white columns of trellis run far away to the horizon climbing up the high hills. The fertile earth, generous sun, hardworking hands raise and care of the grapevine, and every autumn it gives people rich crops of the juicy amber juicy amber and ruby bunches.
In 1908 the Moldavian village Cojusna was added with the winery making wines exclusively on the basis of the French technologies, here there were workshops for inoculation and cultivation of the French grape saplings.
The village is located some 15 kilometers from Chisinau and is one of the wine making pearls of the Republic. Owing to the fact that the enterprise is located in the central zone of the country, in the zone of the well-known Moldova forests (Codru zone) which create unique conditions for cultivation of the high-quality varieties of grapes and manufacture of the well-known Moldavian wines.
They produce today over 10 kinds of the famous wines and quality of production remains invariably excellent.
One of three most interesting wine collections of Moldova is stored in the underground galleries of "Cojusna".
The cellar stores in 6 corridors located at the depth of 7 meters collection wines. Each corridor has its name – CABERNET, KOMRAT, PORTWINE, AURIU, ROMANESTI, Marsala, SHERRY, etc. For today about 250 000 bottles of the collection wines are stored here. Collection sweet wines represent special interest. Strong Sherry (20 % alc., 3 % sug.), crop of 1979, bottled in 1982, Marsala of 1978 (19 % alc., 7 % sug.), laid for storage in 1982, muscat white of 1978 (16 % alc., 16 % sug.), laid in 1982. These wines impress also with nice dark-amber color, and remarkably formed bouquet of the bottle maturity and the most pleasant sweet taste.
The real pearls crowning the art of the Cojusna masters are the wines Dumbrava din Cojusna and Cojusna - are worthy of the highest marks from the experts.
These wines will be offered to you in tasting rooms "Stone" and "European white" where the owners hospitably invite all guests. Tasting rooms in cellars «CHATEAU COJUSNA» are a kind of the time machines as tastings take place in the ambience of the «Middle Ages epoch» where in the quiet of the palaces you can get acquainted with the wines.
If you like the national color, you can comfortably sit in the room "Stone" decorated with the hands of the national craftsman in the national style (for 50 seat) If you like the modern comfort – then you shall enjoy the tasting in "European white hall" (for 55 seats).
You will see that the Moldavian wine makers can keep the traditions and to create the new.
Services of the guide: Russian, Romanian, English, German languages
Transport services: Minivan, Minibus, Bus
Recommendations to the tourist:
Light outwear (temperature 12-14С and humidity of 85-95 %)
Convenient footwear and clothes
The camera